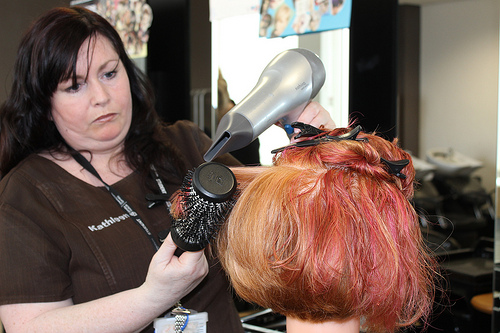 Running a hairdressing school is very similar to running any other business, and relies on having a good customer base, and the bigger your customer base the more free advertising you have as clients extol your virtues to their friends and families. But relying on this word of mouth is not enough; particularly as once trained your students may not return. If you want to increase the number of your students you will need to market your hairdressing school to the public. There are several ways that you can market your hairdressing school, and I have given some examples here that you can use alongside your normal advertising.
Open Day
An open day is a perfect event for a hairdressing school, and you should be able to enlist the help of past students to help publicise it for you. Having them put up posters in their hairdressing salons will guarantee that the event is noticed by the right people, and your ex-students will always sing your praises. Laying on snacks and maybe a bowl or two of punch will help promote a friendly atmosphere, and if you can ask a young local band to play (usually for a small fee), that will encourage more local youngsters to attend. A free hairstyling will always attract people and you could raffle off a few for your visitors.
Charity Event
If you can work alongside a charity (whether local or national) and organise a charity event , you could get lots of local interest; including some in the media. Offering low priced haircuts for everybody and giving the money earned to charity could mean an appearance on local TV, but will almost certainly get your name in the paper. This will take some collaboration, but the publicity will be more than worth it. The more people that attend, or see your name in print the better for your exposure and reputation.
Beauty Pageant
This is an obvious place to showcase the talents of your hairdressing school, and one that always comes with television and newspaper coverage. Volunteering your students to do the hair of the contestants for free, while publishing your school's name on hoardings and the pageant pamphlets, is one of the best forms of advertising you can do. Another idea here is to donate a prize which you, as the owner, would get to present; one more mention for your hairdressing school.
Sponsorship
One of the best ways to have your name constantly in the public eye is through sponsorship.If you sponsor a local high school team, you will be publicising yourself to a good age group for prospective students. In all likelihood, by sponsoring the local high school's girl's volleyball team some of your future students may even be wearing your name on their sports top.
These are not your normal advertising methods, but that doesn't make them any less effective. In fact, these types of marketing ideas often get a business noticed by a larger percentage of the target audience than traditional advertising. If you give them a try you will be more than happy.