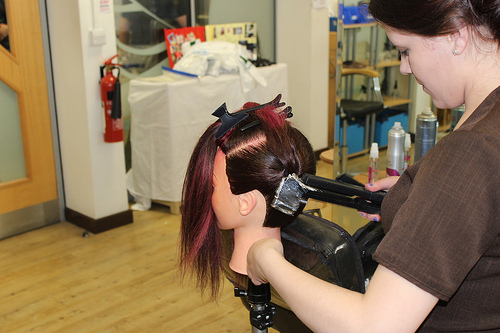 Toronto is a busy, vibrant city bursting with talent so you have your work cut out if you want to carve out a successful career as a hairdresser. You first point of contact with a salon owner or established hairdresser will be your CV. Here are five tips for making your CV dazzle and helping you land your dream position.
Tip #1. Rewrite Your Personal Statement
Hairdressers may only glance at a CV for a few seconds before deciding whether to accept or reject the applicant. They get tired of generic CV from applicants who haven't even bothered to read the job advert. Employers want to read dynamic personal statements that explain why the candidate is a good match for the job. Few candidates even bother to rewrite their statements and simply send the same CV for hundreds of employers. You can get ahead of the pack by carefully reading the job advert and rewriting your personal statement.
Tip #2. Describe Yourself With Positive Statements
Many people struggle to write positively about themselves. You have to choose your statements carefully and ensure that they are accurate and positive. You must highlight your experience and note down your best attributes. Simple phrases such as 'I am a dedicated hairdresser with five years experience' will let any employer know that you have read their job advert. You should always outline your goals with phrases such as 'I am seeking a role with more responsibility' to put yourself in a positive light.
Tip #3. Re-Order Your CV To Emphasise Your Strengths
Don't be afraid to change the order of your CV. Your personal information should be at the top followed by your personal statement. What follows is debatable. Always list your strongest area first. If you have lots of training at hairdressing school but few periods of employment, put your education and skills first. If you have a longer employment history, put that under your personal statement. This will help get your noticed and land the job.
Tip #4. Cherry-Pick Your References
A reference should come from someone who knows you personally. If you are still at hairdressing school, one of your references will be the tutor or principal and the other will likely be from the salon where you did your placement. It's better to put two or three strong references on your CV than include one sketchy reference. If you experienced a clash of personalities with one of your tutors, leave them off in favor of a positive reference from someone you worked with. Likewise, if your placements failed to land you positive references, use academic ones instead.
Tip #5. Ask For Help With Proofreading
Don't be shy about your CV. Ask as many people as you can for help with the layout, wording and grammar. This can help you iron out mistakes, correct spelling errors and address any embarrassing mistakes that would otherwise see your CV heading straight for the trash.
Conclusion
These five killer tips should help any hairdresser land their dream role. What do you think of our list? If you have recently landed a job, what tips would you give budding hairdressers? Leave us a comment below!