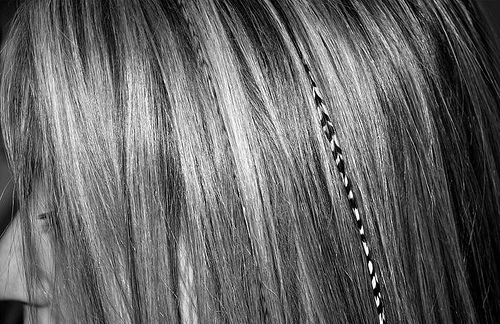 Hair extensions are a great way to add length and volume to your hair but choosing between clip on, glue-in, sew-in, protein bond and clamp-in can get seriously confusing. Short of signing up at a hairdressing school, what are your options? Out of those options, the only one that won't require a consultation with a stylist are the clip-in type. These are perfect if you wake up and need a miracle fix. Read on for the five quickest, easiest ways to solve your bad hair in an emergency.
Tip #1. Failing To Plan Is Planning To Fail
Although bad hair days seem terrible, they are inevitable. You know they're coming and clip-in extensions are the best way to cover yourself. Clip-ins are the only way you can quickly add length to your hair and save the day at short notice. Once you've found some great looking clip-ins, make sure you practice a lot. A good idea is to get them put in professionally the first time. You will get expert tips from the stylist to send you on your way. Before long you'll be a clip-in pro.
Tip #2. Search For Color-Matched Extensions
Getting called out for having off-color extensions is way worse than simply hiding a bad hair day with a hat. The best way to avoid having this is to search for a supplier of clip-ins that perfectly match your hair color. Your search may be long, they'll be sure to be some wrong turns along the way and they won't come cheap but it'll be worth it. Look for suppliers that either use real hair or have a color-match process. Once bought, you'll have perfect clip-ins always at the ready for future bad hair days.
Tip #3. Dry The Extensions Carefully
Most people think clip-ins are temporary but you can reuse them. To avoid spending a king's ransom on clip-ins, be careful how you store them. Most people remove them before they wash their hair but clip-ins will survive a gentle hair wash as long as you use a low-Ph shampoo and don't sleep with damp hair. If you take out wet extensions, be sure to dry them before storing them as they'll tangle easily.
Tip #4. Stay Away From Cuticle-Stripped Extensions
Clip-in extensions are the easiest way to fix bad hair as they do no damage to your actual hair and are quickly removed at the end of the day. When shopping for the perfect extensions, check they haven't' undergone a cuticle-stripping process. This makes the extensions tangle very easily and the matted effect will give away the extension to anyone who takes more than a passing glance.
Tip #5. Stay Away From High Pony Tails
With clip-in extensions, you can't wear a high pony tail without showing the clips, so style your hair sensibly. If you're on a budget you can get them professionally done at a hairdressing school in Toronto the first couple of times so you can pick up some killer tips and find out what works for you.