To be able to retain clients, a hairdresser needs to be good at what he or she does. It is one thing to bring in clients but another to keep them coming back and remaining loyal clients. Every salon, spa treatment or haircut shop needs a chain of devoted clientele to be successful. How do you ensure that you keep your clientele as you attract new prospects?
First things first, you need to be up to date with the current trending styles that your clients will appreciate. You need to keep refreshing your skills and one way to do that is by enrolling in a Toronto hair school to sharpen your skills. The second and equally important tip is to ensure that you have good customer care to ensure your clients are comfortable and well pampered. Read on for tips on how to provide exceptional customer service to ensure your clients get a satisfied experience.
Time management
Every client wants to feel valued and for this you should create ample time to attend to each without rushing your services. Make a point of encouraging your clients to book appointments ahead of time to avoid last minute inconveniences. In the case you are overbooked and some of your clients may end up being delayed, call ahead of time and inform them of the mishap. You can offer free extra services to them when they come in to show them that you appreciate their patience. Ensure that before you take up another client, that your current client is fully satisfied with the services you have offered them first.
Pay attention to detail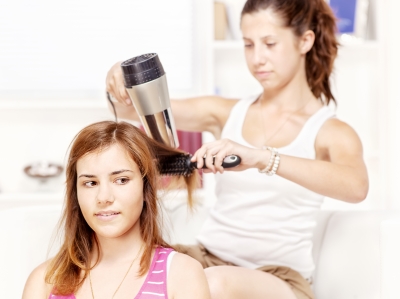 The hair and beauty industry is flooded and if you need to stay ahead of the pack then you need to pay attention to detail. Invest in good and comfortable furniture that your clients will appreciate. Address your clients by name to create a personal relationship. You can go a step further and offer your clients with tea and drinks to help them relax. Invest in small give ways like pocket size shampoos and lotions to create lasting relationships with your customers. For waiting customers, you can offer magazines and a form of entertainment like a television to keep them occupied.
Trained staff
If you have hired staff in your salon, ensure that they are well trained and experienced to handle customers professionally. Ensure that they attend seminars and workshops once in a while so that they can master in their respective art.
There is nothing as bad as dissatisfied clients due to bad service. Discourage your staff from engaging in unnecessary talk with customers unless the client needs to. Gossiping and sharing problems with clients creates a bad rapport and this can discourage clients from coming back. Your main point as a business owner is to ensure that your clients have a nice experience and they have a place they can get away from their normal routine as they get to look good.
Consultation skills
Not all clients know what they really want when it comes to hair styling and beauty treatments. Always make time to understand what look they are trying to achieve before working on them. Give your professional advice by recommending styles that you know will work well on them. When it comes to skin treatments, recommend products that you know will suit them to give a fantastic finish. By doing this, your clients learn to trust you and they will always come back because they know you have their best interest at heart.
Bottom line
Hair and beauty is a service industry and unlike the product industry the service industry is more demanding. If there is one thing that clients don't forget is good service and this not only guarantees you return clients but also earns your business a good reputation.