Most guys are taught that they don't need to do much when it comes to facial skin care. Probably, that washing up with soap and water is enough to get your day started. There is more to skin care than just keeping it clean. It needs to leave your skin looking healthy and in turn you feel great.
In the recent years, we have noted more men enrolling in beauty schools in Ontario to get courses in skin care. If you are a guy seeking a career in hairdressing and esthetics, you need to ensure that you look great yourself before encouraging clients to take on beauty treatments. The following are ways you can care for your face as a man.
Know your skin type
You should find out what type of skin you have whether it's oily, dry or in between.  Washing your face with body soap only leaves it dry and causes irritation. You need to get a facial cleanser that has natural ingredients to clean your face. If you are not sure about your skin type, use natural oil cleansing products to clean your face since they do not cause any skin irritation. This is best used on men who suffer from acne.
Clean your face with a cleanser once in a day. If you feel like you need to refresh at any other time, use lukewarm water to splash your face without using soap. You should dry your face by patting on it instead of rubbing with a towel. Never go to bed with anything applied on it like sunscreen.
Exfoliate frequently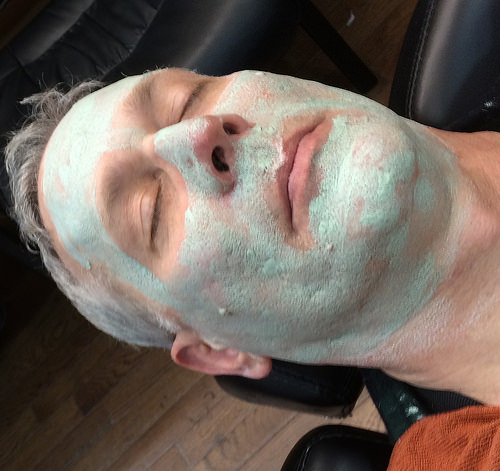 You need to purchase a facial scrub to exfoliate your skin. You should exfoliate after a few days especially before going for a shave. When we wash, not all dirt comes off and exfoliating helps to get rid of any hidden dirt while removing dead skin. It opens up the skin pores which leave your skin feeling smoother and healthier. This offers relief when you get a shave allowing you to get smoother, closer shaves. You should always apply a circular motion when scrubbing. You can also use a dry facial brush to get rid of dead skin without getting your face wet.
Protect your skin
After washing your face, apply a moisturizer on your skin depending on the type of your skin. If you have dry skin, check for products laced with olive oil, lanolin, argan oil and shea butter. On the other hand if you have oily skin, use ingredients which are light to allow your skin to breathe. Don't forget to moisturize around the eyes too.
Moisturizing helps to keep your skin elastic and prevent it from becoming flaky and itchy. If you spend most of your time out in the sun, make sure that you use sunscreen to protect your skin from harmful sun rays. One thing most people forget to do as they apply sunscreen is to apply it over their lips. Not all sunscreens can be applied on the lips so ensure to get a moisturizer with the correct SPF to act as a sunscreen too.  Don't forget to wear sunglasses to protect the skin around your eyes.
How to shave effectively
Always wash your face before you start shaving. This rids off any bacteria on the skin surface to avoid infection in case you cut yourself. The shaving cream should be applied when the face is still wet and use the right razor. Rinse your face once you are done shaving and apply moisturizer. This helps to keep your face smooth and also soothes any irritating feeling that may be caused by shaving. If you have any facial hair left, use scissors to trim to get a neat finish.