Your hair is your crowning glory. This familiar quote has always served as a reminder for many people, especially women. But what if you get tangles every now and then or if it gets frizzy from time to time? Can it still be the crowning glory that it is supposed to be? Well, you have to remember that taking care of your hair regularly can help you fight all those frizz. So consider the following tips today!
How often do you wash your hair?
Why is this necessary? It is because of the fact that frequent washing causes frizz. It is as simple as that. Washing your hair strips it of the natural oils that are supposed to make it healthier. It will then be best to wash your hair sparingly. Should you feel that your hair becomes too greasy because of this, what you need is a dry shampoo to remove excess oil that has been soaked in your hair.
It is all about proper drying techniques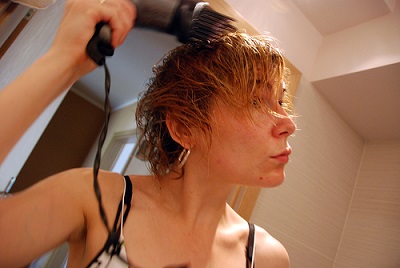 You know very well that frequent blow drying can damage hair. With this in mind, it may have been a long time now since you have dried your hair with a blow dryer. Using a towel is indeed good but how you do it can cause your dry to frizz especially when you are too heavy-handed whilst towel drying. This process roughens up your hair's cuticles thus causing it to become frizzy. Never twist your hair with a towel to prevent this. Blotting and pressing will be enough to dry it off. Choosing a microfiber towel, one that is absorbent enough, will create lesser friction and help do away with the frizz.
Choose what you use for your hair wisely
When your hair is dry, you will surely get a moisturising shampoo. When it is thin, you will get a product for added volume. What if you have frizzy hair? Well, choosing the right products is a key to fighting this problem. Remember this is more than just choosing a shampoo. This involves the wide array of styling products you can make us of. Tame frizzy hair with the help of products that have silicone in them. Make sure you do not use mousses, hair sprays and all other products that contain alcohol as these can retain moisture in hair thus causing frizz.

Have the appropriate hairstyle
Aside from choosing the right styling products, you must also make sure you have the appropriate hairstyle to fight frizz. Frizz control oil and serum products are available but these ones will not work unless you know the best kind of hairdo for you. Choose to wrap your hair in a low bun rather than pulling it up for a tight ponytail.
Make hair 'gadget' upgrades
If you cannot do away with the hair dryer, you must at least look for one that will not be too hot for your hair. Ionic blow dryers are already available. These ones have the capability to lock down hair moisture thus keeping your hair tangle-free and frizz-free. Use these ones only when you have to. Frequent blow drying, remember, can damage your hair.
Choose your salon wisely
One of the main things to consider in fighting frizz is to look for a salon that offers services that will certainly make your hair your crowning glory. Choose the salon with estheticians who know about products that are great for you and hairstyles that work best for frizzy hair. When these experts know what they are doing, you will no longer have to battle frizz as often as you did in the past.
Our hair school provides esthetics training to aspiring hair professionals so you can be sure that our salon services are a cut above the rest. Call us today and make an appointment!