Having long or medium hair sometimes feels limiting in terms of styling, but it need not be. The French braid is one way you can style your hair and it is beautiful as it is versatile. If there is a style that will never go out of vogue because of its elegance, it's the French braid. It has a complex appearance, but is really easy once you learn how to braid it.
The French braid is an English braid with a twist. The English braid starts with three strands that gather all the hair at once. The French braid starts with skimming a thin pony tail from the top layer and gathering thin sections of hair from each side. As you braid, you keep gathering thin sections until you get to the base. The braid can be done on medium to long hair and worn on different occasions.
Weddings
A bride may want something elegant, yet simple for her wedding. A bride can choose between hundreds of different braids that can be interwoven with flowers. The bridesmaids can sport a different style of French braids and still look as elegant.
Some of the French braids styles that would be perfect for a wedding and work on long to medium hair are waterfall braid, messy fishtail braid bun, and braided bow bun among others. To get a professional look for your big day, you can look for a hairdresser who has studied at the top beauty schools in Toronto.
Workplaces
Some style of French braids can be worn to the workplace. These are the styles that are less messy and slightly formal in their appearance. The classic French braid is always a perfect and elegant way to pull your hair back with less mess. You will always look chic and be the envy of many.
Proms and dinner parties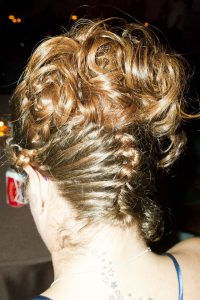 Your little girl is all grown up and has a prom to attend! French braids are a classy and elegant way to style her hair. An upswept French braid with flowers interwoven in between would go perfectly with her prom gown and look gorgeous with her corsage. The same case applies with a dinner party. An upswept French braid style is uncomplicated and you can braid yourself without having to spend lots of time at it. French braids are graceful and regal; styles that make you look chic without too much effort.
Summer parties
Summer time is meant to be fun! There are lots of parties during summer and you need a hairstyle that says a lot about the carefree holidays. There are hundreds of French braids that are suitable for summer parties, and work well on medium to long hair. Letting your hair down or tying it into a ponytail can sometimes be a bit mundane. Braiding it and adding some flowers make you look like a princess and feel like one too!
No more bad hair days
Once you know how to braid a basic French braid, then you will never again complain of lack of hairstyles! Long and medium hair can get boring with the same old English braid, pigtails and pony tails. The French braid is versatile and can be worn just about anywhere you please. So when you are having a bad hair day, just do the French braid and you are good to go!
The French braid changed the English braid by adding a twist to the same old three strand braid. There are many videos online that you can use to teach yourself how to braid the French braid. Once you can do the basic braid, then the rest will be easy to braid. The French braid is the easiest way to tame long and medium hair, especially when you are bored with the same old hairstyles.