Vocational training schools are becoming more popular as the job security attached with traditional universities is on the decline in the current economy. In spite of the touch economic climate, barbers and hairdressers are a booming workforce and with some 40.8 million customers, things promise to remain buoyant for some time for the salon industry.
For youngsters getting into the profession with the drive and determination to succeed, the sky is the limit.
How do you know if this is the right career for you?
A career in hairdressing or barbering is perfectly suited for you if you enjoy fashion, especially hair. But there are more things to keep in mind before you choose a career in hairdressing. Some of the qualities to keep in mind are –
You must be a people's person. A grooming experience is not pleasant unless your stylist has put you at ease enough for you to trust them to make you look good. Not only will you have to work with men and women, but sometimes also with children and that could be the tricky bit. Moreover, you must be equally at ease in engaging in a conversation with either sexes that is cordial and friendly but not invasive.  While your work will speak for itself, your personality is what helps you to retain a customer network. A pleasant and friendly attitude goes a long way in this business.
You must know when and how to provide your opinion. Since you are trained and experienced, it is likely that you know what is possible to be done with a client's hair and how it will make them look. If your client doesn't know what they want or are looking at you for recommendations, feel free to share it with them. But the adage that the client is always right is never more true than in this business. What they want to do to their hair is completely their choice, therefore you must know how to listen and understand what they want correctly and to hold back your opinions if you disagree. If you are unclear, do not feel shy to ask more questions to clarify what the client is trying to tell you.
You must be able to multi-task. The salon floor can be busy during certain seasons and you and other colleagues might have to juggle too many clients at the same time. This means that not only will you have to be quick but also careful and efficient in your job. Do not let the conversation or a pending dye job distract you from what you are doing now.
Most people who go to a hairdressing school start almost immediately as a trainee in some capacity at a salon. Therefore it is important that you have a good sense of work ethics even before you come on the job. You need to be punctual with your appointments and be able to work in an organized and efficient manner, even under pressure. The ability to stay calm and polite when the customer is going acting otherwise is a huge plus.
The most important contribute needed to get ahead in this field is to be creative. Always look forward to experimenting and learning from places outside the school. Another good point to inculcate is to be open minded and know how to take criticism with an open mind.
How can you train to be a hairdresser?
There are several reputed cosmetology and hairdressing schools in and around Toronto and Ontario that one can pick from. At a vocational college, you can train as a hairdresser either full time or part time, or you may also begin by working as a trainee in a reputable salon and then learning on the job and attending college on your day off. The best thing about getting into this kind of a career is that it allows you to maintain flexible routines.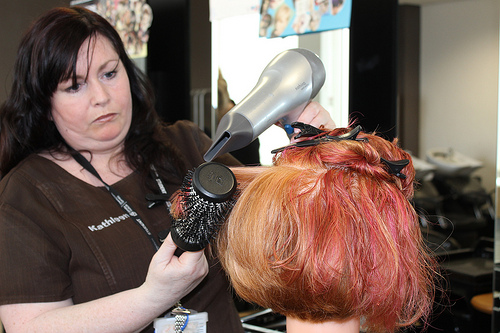 There are many companies such as L'Oreal Professionel that run training programs in partnership with other educational colleges and universities. You could also visit their website or contact them for more information on all training options in the hairdressing and beauty industry. There might also be an apprenticeship scheme available at the local job centre in Toronto, and you can work alongside as you obtain your foundation degree in hairdressing. Generally at entry level positions you build up on skills and experience in basic hair dressing profile such as making appointments, shampoo and conditioning treatment, cutting hair, coloring, perming, blow drying and styling etc. Most people look to develop a career with higher level qualifications after that with courses the usually combine salon management skills with training. There is a lot of help from the professional bodies and the government available on planning, establishing and managing your own hairdressing business as well as continuing personal development courses.
The jobs available in this industry can vary in their profile, from trainee stylists to lecturers in hair and beauty at cosmetology colleges. Many of the jobs for more experienced stylists are on a self-employed basis and include managerial roles at salons to stylists for famous clients and at photoshoots. While the internet is a good portal to search or jobs or apprenticeship, it is known that local salons rarely advertise vacancies online. They rely on jobseekers coming to them with their resumes or spotting their adverts in the window or local press to get new recruits. So that's another pool of potential job opportunities that remained unestimated.