Having flat, limp hair is so disappointing to a lot of people especially those with fine hair. In this situation, you will see that your hair's diameter is very thin. You are probably wondering why most people with limp hair lose the volume and bounce they want for the hair. Blame it on the fact that fine hair strands are voluminous and with that, your scalp produces more oil than usual. Do not fret however when you are faced with this concern. You simply have to follow hair care tips that we recommend for people with limp hair.
Choose the right hair care products
If you happen to visit beauty stores, you will notice that there are various types of shampoos depending on your hair type. For those of you with flat, limp hair, volumizing and thickening products as well as bodybuilding shampoos are the best choices. You can also read the label of these hair care products. Once you see that it contains proteins to strengthen and thicken hair then it is certainly a good buy.
Try pre-shampoo conditioning products
An example of which are leave-in conditioners which you can apply on your hair before shampooing it. These products will give your hair the volume and thickness that it needs, at least temporarily, as it plumps your hair from the inside whilst it is being coated outside. These treatments can also help prevent hair breakage, a problem common to people with limp hair.
There is also a proper technique when it comes to blow drying your hair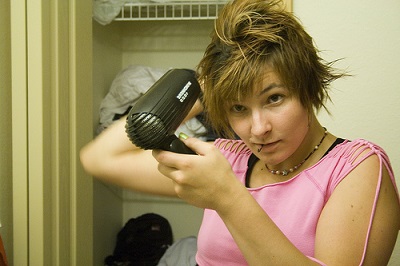 Commonly you will blow your hair from the outside after drying it with a towel. Whilst this can add volume to hair, it will not give the same bounce and thickness you have always wanted. One of the best things to make your limp hair voluminous is to flip your hair forward as if it is hanging then blow dry it. Use a brush whilst making your hair dryer work.
It is also important to shampoo your hair daily
Many people will opt to shampoo their hair every other day with the thinking that too much shampooing can damage hair. However, it has to be remembered that shampoo washes away dirt and dust that have built up on hair. Of course, it also takes away oil, the common cause of having limp hair. With this in mind, it will be good to shampoo your hair daily to give it the bounce that it needs. Remember though that as you give your hair volume through shampooing, it is also crucial to make sure that you should rinse your hair carefully and properly using water. You do not want traces of shampoo to add to your limp hair problem.
Condition your hair too
You can also condition your hair even if it is already limp. You have to take note however that you should do this correctly. The correct way to condition your limp hair is to apply it from the mid-length down to the ends and not from the roots to the ends.
Sport a short hair as much as possible
You may want to grow your tresses longer than it is now but with dry and limp hair, this is not recommended. Give it the body it needs by sporting a short hair. Having shorter hair, you should remember, instantly transforms limp hair into voluminous hair.
Styling also matters
You have to get your limp hair styled correctly too to give it the much-needed volume it requires. In this regard, you should choose to work with experienced hair stylists who have graduated from a reputable hairstyling school in Toronto as they have learnt how to add life to your dull and limp hair during their training years.