Hot stone massage, otherwise known as thermotherapy, is a treatment modality where heated stones are applied to the body as form of a therapeutic massage. You may have seen round, smooth stones used in this therapy. These stones provide a different feeling of warmth on the body surfaces they touch. The heat that comes out of the stone is said to be good for relaxation and since it penetrates deeply into the skin, you will be freed from stress, tension and overall body fatigue. Apart from these basics, there are a lot of things to know about hot stone massage.
Many benefits of hot stone massage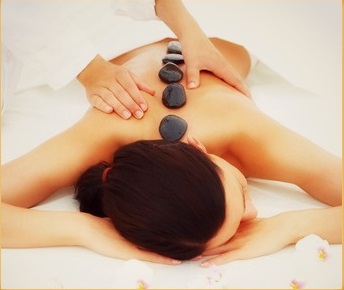 When trying to compare hot stone massage to other types of massage therapies, the first thing you certainly will want to know is how it can benefit you. Well, as mentioned awhile back, this therapy can help when it comes to relaxing your body. Add to this, however, you will also feel detoxified after the treatment process. Since the massage is done with the help of hot stones, you can be sure that even your circulatory system will be stimulated which will in turn help release the toxins that have stayed in your muscles for a long time.
Due to the circulatory activities that take place in the hot stone massage therapy, you will also be able to get rid of muscle spasms and all other pain that you are feeling at the moment. This will definitely be a gift for your spirit as you will feel peace after undergoing the therapy. As an end result, you will feel more rejuvenated not just in your body but in your mind and spirit as well.
Extras that can be added in the hot stone massage treatment
Many people love to have massages at home just near the garden where the water cascading at the corner will add to the serenity and peace promised by the procedure. Well, in many other cases, therapists will play soft music in the background so you can imbibe the relaxed mood even more. Since you are left with the therapist whilst having the massage, you will be able to focus more on yourself thus allowing yourself to break from those usual daily stresses that you are having.
Hot stones are prepared to make them more effective
You have to take note though that the success of the massage therapy all depends upon the preparation of the stones that are being used by the therapist. The round stones are heated until it reaches a heat of approximately 34°C (120°F). These stones will then be laid atop the treatment table aligned preferably on your spine. From there, the stones are covered using a soft towel. You will then be asked to lie on those covered stones. From there, the stones are placed on the abdomen, the heart and the neck. Every single part of the body from the legs and feet to the arms and hands will be massaged with oil before applying the hot stone over them.
You feel more relaxed as the session goes
As with many other types of massages, you can fall asleep whilst having the hot stone massage. There can be different reasons behind why you will fall into that state whilst being administered with the therapy. First, it can be an indication that you are enjoying the moment. Second, it can also be because you have been tired the past few days. Whatever it is that makes you sleep in that moment, you can be sure that you will imbibe a more positive vibe after the process.
Hot stone massage is definitely one thing you should have when you are so tensed with your life. You can undergo esthetics training to learn more about the ins and outs of this massage therapy.