Many people have always assumed that putting on makeup is a simple task, until they try it. It takes a lot of practice to learn the skills of putting on makeup and perfect on the art. It is interesting that something as simple as holding a makeup brush is not so simple after all. That is why makeup artists need to enroll at an esthetics school for them to be good at what they do. In this article, we look into the artistry of makeup and the basics 101 that you need to know about this subject. We will let you in on some of the secrets on how to handle makeup kits and how to do makeup brilliantly.
Spend money on quality makeup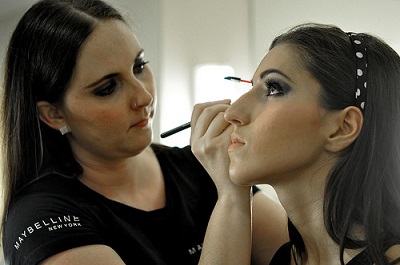 If you need to learn how to apply makeup as a pro then you have to do what professionals do and that is they invest money in proper makeup kits and quality products. You may not be good in makeup application but if you have poor quality products then that means the results will automatically be disastrous.
But if you have poor makeup application skills and you get quality products then automatically you improve the way you handle and apply makeup. Before investing you need to know that there different application tools and they vary according to their use. For example, there are 8 basic brushes that you need to know and what their purposes are.
Mix your foundation with primer
Did you know that you could mix foundation with primer to be more translucent? I didn't think so. Most of us know that primer goes before you apply the foundation. Foundation comes in three different forms namely liquid, cream and powder. You use the cream foundation to mix with primer this way you are able to keep the foundation's coverage without looking layered on.
Doing this also helps makeup to blend in with the initial layer of primer applied to your skin. Another tip on foundation application is that if you have oily skin always use a sponge to apply a cream foundation. This way the sponge picks up the pigment only. For dry or combo skins use your brush to apply the foundation and concentrate on the center of your face as you work your way out.
Concealing flaws
If you need to succeed in being a good makeup artist, then you need to know how to identify a person's undertone and manipulate the color wheel to rid unwanted color. You need to learn how to manipulate color to conceal zits and hues under the eyes. Using opposite colors cancels out the color to be concealed. As a learning makeup artist, you need to be comfortable working with different skin tones and features to become a professional.
Learn how to fix the shape of your face
This is known as contouring your face. You alter the shape and features of the face by using different shades. Using products that are lighter than a dark area will make it appear more prominent and darker products on lighter areas of your face will make them recede. If you have a round face and you wish to make it more oval you can apply a bronzer shade in a "3" shape that is your temple, the cheek hollows and the chin area. For a prominent forehead use the bronzer to shade your forehead along the hairline. For a wide or flat nose, start applying shade from your inner brows to the center of the nose. In the case of sagging cheeks, applying a highlighter above your cheekbone working your way to the temple will help.