Some women with fair skin do not even need to put on makeup because they already have that natural glow on them. But there are occasions that call for the use of such cosmetics to make their entire look standout. As with any other skin type, it is important for women with fair skin to remember makeup tips that will make them look more beautiful.
Going for neutral colors when applying foundation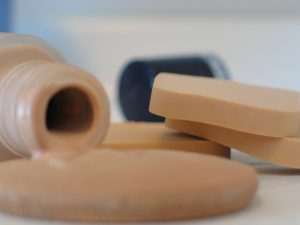 Foundation, as the term implies, is the basic of putting on your makeup. With this basic principle in mind, it follows then that when you choose the wrong foundation for your look then everything else will go wrong. The good thing is you can always test the colours that complement your skin very well before you even buy one. One important tip to remember is to go for neutral colours.
Neutral is not good when you choose your eyeshadow
Well, this is quite obvious. After all, applying a neutral-coloured eyeshadow will be useless when you have fair skin. Brighter colours are the way to go when this is the case. Violets, dark browns and greys will be very good to highlight your beautiful pair of eyes.
Darker colours will likewise be better for your choice of eyeliner
The common mistake you may make when choosing the best eyeliner for fair skin is to go for those with lighter colours. You will only see the effect once you have used it already. Just like with your eyeshadow, you have to choose eyeliners with darker colours. A good basis for making the right choice is to go for the eyeliner whose colour is at least a shade darker than your eyeshadow.
Black can never go wrong when you apply mascara
When highlighting your eyes and you have fair skin, it will be good to use the right colour of mascara that will go well with your skin colour. Whilst brown is a common choice for many people, black is considered the best when your skin is paler than usual. This will make your eyes pop out and look brighter and wider.
Always wear blush when you are fair-skinned
In fact, wearing blush will often be enough for those regular days at work. It will bring colour to your skin. Remember though that you must not overdo it. Meaning, you do not need to put too much blush just to highlight your look. All you need to do is apply soft blush on your cheeks and voila! You are good to go.
Bronzers are great for people with fair skin
It gives a different kind of glow that you will definitely notice once you spot yourself in front of the mirror. You simply need to apply it on the corners of your forehead and on your nose. You can also apply it on your chin and your cheekbones to complete the look.
Last but not the least – choose the right colour for your lips
Have you ever noticed how darker lipstick colours make fair-skinned individuals standout? When you have that same skin colour then it will be good to choose red and other darker shades rather than settle for neutral colours. Such shades will make you look more alive. Orange will be very good on your lips too.
Having fair skin is a gift you will definitely treasure because everything seems to be easy. However, when the occasion calls for more preparation, you have to do something to highlight your features. We have given you the basics when it comes to putting on makeup when your skin is fair. Add to this, you may also want to train with us. We are one of the beauty schools in Toronto endeavouring to help those who want to become professionals in the field of hair and makeup.