As you enroll to take a course in esthetics training, it is paramount to understand the different procedures you can undertake to help you care for your clients' skin. You can recommend microdermabrasion treatments to clients who suffer from skin discoloration, sun damage, light scarring and stretch marks. These skin conditions are very common and not so many people know how to manage them.
How microdermabrasion treatments work
You can recommend the microdermabrasion treatments which uses abrasive instruments to gently sand the skin to remove the thick uneven outer layer. Microdermabrasion is known to improve blackheads and age spots. Microdermabrasion machines polish and buff the skin by using a diamond tip or fine crystals to remove dead skin cells. This is a process that is recommended by dermatologists to patients suffering from clogged pores and uneven pigmentation.
How to handle microdermabrasion machines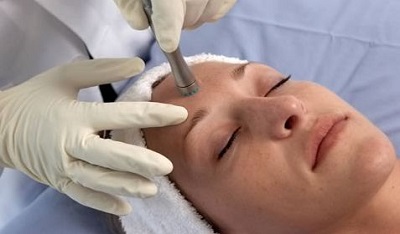 Microdermabrasion equipment is very sensitive and should be handled with extreme care. These machines come in close contacts with the skin and therefore they should be well sterilized to avoid skin infections. As an esthetics specialist, ensuring your clients' welfare should always be your priority. If not careful, such mistakes can make a spa loose valuable clients and that means loss of revenue. At worse scenarios, a client can sue the business for damages incurred in the case of infections passed on. You should ensure that you invest well in sterilizing equipment's to handle multi-use wands to avoid such mishaps.
How often can one get microdermabrasion facials?
This usually depends on the client's skin care needs and the severity of the condition they suffer. Clients with severe skin conditions sometimes need to book for treatments for a duration of 1 to 2 months interval to ensure that the procedure is effective. There are different devices that a spa uses to handle different skin conditions.
For severe skin conditions, the spa uses microdermabrasion devices with larger motors which have more power. These devices penetrate deep into the skin to ensure precise exfoliation. If a client has light skin conditions, you can use handheld devices to remove dead skin to ensure that the skin stays healthy. A client can choose to have these procedures as often as they please depending on their financial ability.
How safe are Microdermabrasion treatments?
Clients will need to know how safe this procedure is and how effective it is. You should assure your clients that microdermabrasion treatments are not painful procedures. Different skins react differently to the treatment but the procedure does not leave serious implications. Microdermabrasion works deep in the skin and so that means the client may experience some redness on the skin after the treatment. The skin becomes more sensitive to touch but this lasts for a short period of time. Applying a calming moisturizer and sunscreen after the treatment helps to ease the mild discomfort that follows.
Microdermabrasion not suitable for severe skin infections
Microdermabrasion is used to improve skin health but should not be used to treat severe skin infections. If you have a client who suffers from such conditions, you should refer them to a dermatologist to confirm whether the procedure is good for them or if they need advanced treatment. You should also make sure to explain to clients that microdermabrasion does not get rid of wrinkles, growths or redness.
Microdermabrasion is a great way to keep the skin feeling smooth. It ensures that the skin pigmentation is more even. This is one way to keep your client's skin looking young and fresh and that makes them happy. Happy customers give repeat business helping a business to thrive.