Most people do not realize how important it is to have the right tools for every particular job. You have heard that a good chef always has his set of knives with him and they are the most precious tools he has. Well, this also applies to a hairstylist. A good hairstyling school in Toronto ensures that students are aware of this fact if they are to make it in the hairstyling industry. Qualified hairdressers are trained to have particular tools with them before they can start on any hair design.
It is possible to be the best hairstylist but when you do not possess the correct working tools then this affects the quality of your work. When you first go shopping for materials, it is possible to be overwhelmed by the varieties available at the beauty supply stores. This article will simplify down the must have tools that every hairdresser should own.
Flat Irons
This is one device that any beauty salon cannot survive without. Flat iron is increasingly becoming popular and it is widely used because it can work on all types of hair. A hairdresser can use it to add dimension to hair styles to create a unique look. They make hair straightening very easy and therefore a hairdresser is able to work in minimum time. Flat irons are known to leave the hair with a sleek style and even add a flip to straight hair.
Hair Dryer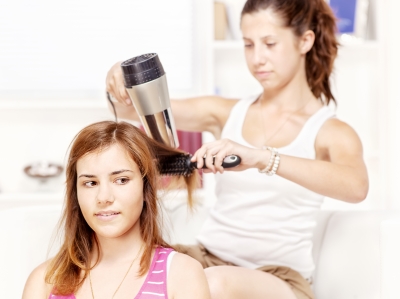 Hair dryers are no longer secluded to drying hair only after a wash. A hairdresser can use a hair dryer to style hair as they dry. Hair dryers are used to add volume to hair and also give a shiny finish. When straightening, ensures that a flat nozzle is attached to the hair dryer for better results. Use a diffuser if you intend to just de frizzle the hair. Usually, the volume of the hair on the head determines how much heat you need to apply to get the best results. The more the volume, the more the heat should be applied.
Round Brush
Using a round brush when drying off hair, helps add dimension and volume. You can also use a round brush even when curls are not desired. If your client desires a more layered look then use a brush with plastic bristles. A natural bristle brush usually creates strands that flow evenly.
Curling Irons and Wands
The curling iron has been the most used curling device for a long time. It comes in various diameter shapes which determine how tight or loose the curls will be. The curling wand is a newer version to the traditional clip and curl curling irons. The curling wand is easier to use since no clips are needed. All you need to do is wrap a lock of hair around the curling wand to achieve a sassy wave and a natural curl. It makes curling hair easy and saves tons of time for the hairdresser.
Tips for a New Business Owner
If you are a hairdresser hoping to start your business soon, getting enough capital to invest in all the equipment you need, can be very challenging. It is advisable to start small and work yourself up. Ensure that you have the above mentioned tools to help make your business a success. With time you can invest in more equipment and get to hire more hands in your salon. It is the expertise that makes one a great hairdresser. Therefore, it is paramount that you enroll in a good hairdressing school to get the best training.