There are lots of people, male and female alike, who want to become certified hairstylists. Come to think of the many opportunities that can come after enrolling in such classes and surely, you will also want to give it a try! If you are one of the many people who want to try your luck with this profession, the following might help you become not only a certified hairstylist but a famous one as well.
Learn where you can take up these classes
First, you must look for a learning institution in your place that can make you become a licensed hair stylist. Make sure to take a look at the classrooms and the things you need to learn in order to get the needed certificate or diploma for the degree you want. There are also some Culinary Arts school that offer such programs. Some of the learning institutions that offer hairstyling courses include cosmetology schools, barber colleges, technical schools and community colleges.
Learn about the class requirements
You need to complete the needed number of hours if you want to become a licensed hairstylist. When looking for learning institution you need to know that they are not usually offered online because of the hands-on training that the students need to undergo. However, there are websites you can visit which can provide you list of approved schools for hairstylists. You can also use specific websites of these schools to learn more about the programmes they offer.
There are also learning institutions for would-be hairstylists that offer diploma, certificate or associate degree for the said course. If you want to finish your sessions in the least time possible, it is advisable that you enrol for diploma and certificate program. However, if you want to take board examination and become a legitimate licensed hairstylist, you should go for associate degrees like the Associate of Applied Science in Cosmetology. There are some places offering licensure examinations for hairstylists as soon as they had completed the number of hours required for the course.
Know what you should expect from such courses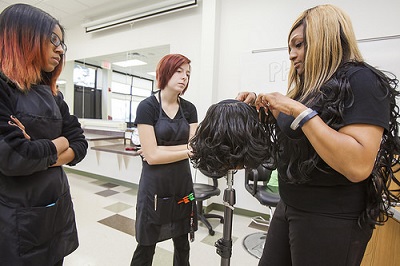 In a hairstyling course, you will definitely learn the proper way to cut, style, color and chemically treat the hair. The instruction and hands-on training is done in a classroom. Apart from learning cutting, styling and coloring the hair, you will also be taught the right way to mix chemicals and dyes for the hair. You will also be given proper instructions on how to relax, wave and colour the hair. Besides all sorts of hairstyling techniques, you will also obtain additional knowledge on nail and skin care, and the right technique for applying makeup as well.
Once you take up hairstyling course, you will NOT only learn about hair, nail and skin. You will also be taught about safety and health regulations, sanitation, proper way to manage a salon, anatomy and physiology, and properties of both the scalp and hair.
Learn the different methodologies for learning
As soon as you begin the training program for hairstyling, you will first work on mannequins, but as you reach the completion of the number of hours for the course, you will be working already on live and kicking persons. There are some schools offering clinics for the public wherein students training for hairstyling can do hair services for customers as a part of completing their training. Whilst on training, you will be given temporary student permit to work on customers but with the supervision of a licensed instructor.
Learn slowly but surely
Like in anything, enrolling in a hairstyling class, whether for the short or long term requires a series of steps. It is a process that can only be well appreciated not with guts but with perseverance. You have to take things one at a time. Do not even think that you are better than other people in the rest of your class. Otherwise, being in the program may not really be for you. You can always make suggestions. Your teachers will accept that but do not be boastful about your knowledge of hairstyling.
Never hesitate to ask
You are not an expert in this course. It is most likely that you have some queries to ask just before, during and after each class. You have to feel free to voice out your concerns. After all, that is the best way by which you can learn your classes very well. Your licence will only go a long way after you have undergone the training as expected.
Looking for a hairstyling school in Toronto? Well you came to the right place. You can use the different sections in our site to learn about us better. Feel free to call us for your queries and we will be more than happy to answer your concerns.