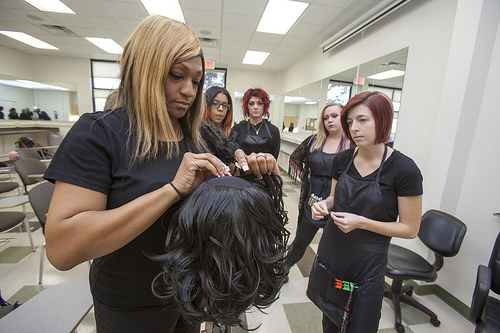 A career in cosmetology is both fun and rewarding for people who have decided the world of beauty is where they want to be. But to become a certified cosmetologist, a person must complete a regionally- or state- accredited cosmetology program. The program consist of a basic cosmetologist course that students take to gain an all-round beauty knowledge in areas such as makeup application, hair styling, skincare, nail treatment, proper spa pedicure and manicure techniques like moisturizing, soaking, trimming nails and so forth. Advanced courses in cosmetology for example in artistic nail designing, including applying gemstones, airbrushing and more are available for students who decide to specialize in this particular area of beauty. Here are a few tips to follow if you are to get the most out of your chosen cosmetology course.
1. Dress for success
Keeping your uniform well pressed and stain-free is highly encouraged in the beauty industry. Nobody wants to be attended by a shoddily dressed hairdresser, or one with unkempt hair. Shoes must also be shined at all times. You will feel and look professional this way, and not forgetting being able to retain your customers upon completing your course.
2. Always arrive 15 minutes early for the lessons
Arriving early to school gives you the chance to be better prepared for your lessons. Start by cleaning and organizing your tools. Afterwards, find a comfortable seat and place it close the front of the classroom and then read ahead for your class. Whether you will be looking for employment after your beauty course or will be self-employed, a reliable stylist is dependable, punctual and professional.
3. Have respect for other people, fellow students included
This might seem an obvious tip, but it can be very easy to forget when you are having a bad day. In this area of specialization, a good customer service is very important. Attitude is everything in this industry and can break or make your business. The trick is to leave that bad mood at your home and come to school with a smile on your face. A genuine respect for others and positive attitude is all it takes to be successful in this industry.
4. Always come to school prepared
Like in any other business, success comes from being prepared. Make sure your tools are always clean and in good working condition, as well as having the relevant books with you before the start of your lesson. Don't not lend out your tools or books as they could be returned late, or broken, or not returned at all. Remember, your future is at stake here and saying no to someone does not mean you are being stingy with your things.
5. Give 100-percent attention to your instructors
Instructors are there because they want you to succeed in your chosen career. They love what they do and want to help you comfortably reach your own success. So it pays to show them respect and pay attention to what they have to say. They may tell you things you would rather not be told, but all for a good reason. So take constructive criticism positively as this offers you an opportunity to further your skills and grow.
6. Get plenty of practical skills while on the floor
The training floor is a perfect place to practise makeup application, haircuts and other techniques that are more challenging for you. The more challenging a technique, the more confident you will be in your chosen craft. Practical skills help you expand your skill set, meaning that you can be able to work on a variety of clients in your future career.
7. Make the most out of guest speakers
Most schools invite guest speakers to give demonstrations on a myriad of topics. These people can be product distributors, salon managers, industry experts and many more. Your job is to do some research before the demonstration and make a list of questions to ask the expert. Apart from being a perfect opportunity to gain valuable skills that can boost your future career in beauty industry, it is a great way to build up a network, so that if an employment chance arises, you get to know about it better.
8. Talk to students that are about to graduate
Make a point of looking around for experienced students while on the clinic floor for they have experienced it all and thus are able to give quality cuts and services. Watch what they are doing, ask questions and take notes. Most of them will be flattered that you asked, making it a perfect opportunity for building up your network. When you graduate, get back to these people and ask about the available job opportunities.
All in all, what you get out your cosmetology education is what you out into it. So make the most of your course and you will reap in abundance at the end of it all!