Remember those times when you had those hideous haircuts and you'd like yourself to believe that you'll grow up to be the best hairdresser ever? Those times were fun, and if you are sticking to your plan of being a hairdresser, the future would be fun too. You can experiment and explore your creativity on a canvas you cannot afford spoiling- challenging much? It would be your work and not what you have listed in your resume that would count for your public image. Is not that wonderful? If you're good at your work you'll probably build more contacts over the years than you could sitting behind your desk in an office day in and day out.
Not only would you get a chance to experiment with all those hairstyles you thought you could master the skills of but also co-ordinate it to suit occasions and trends. What's better is getting paid absolutely what you want, of course if only you are good at your work while you are having fun at it too.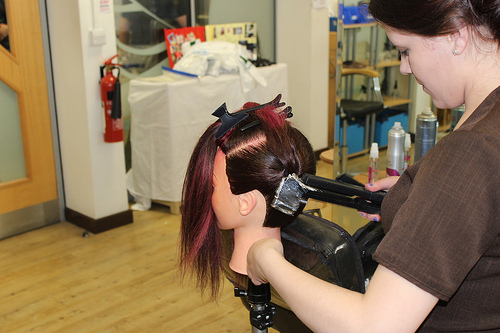 Getting your first customer would not be the toughest task, I am sure some friend if not others would be willing enough to take the risk. The challenge is in making those customers return for every hair styling job they get done from there and then. You'll get the best of all worlds- getting paid for the work, being aware of the latest trends as well as gaining appreciation and acknowledgement for your work. The credit will be yours and yours alone.
So are you set to be groomed to groom others? Are you waiting to step into the hairdressing school and never turn back? But are you sure which school exactly do you want to receive your training from? There might be a lot of reputed hairdressing schools but not all will fit the bill for you. Your expectations from your training have a huge role to play in deciding which school you should actually choose to visit. Here's what you must understand before choosing the hairdressing school you're going to spend a lot of time from your life at. You sure don't want to be disappointed with the experience. Do you?
1)      Course over college or college over course?
The decision is yours to make. Not all schools will offer you the same modules. Most beauty courses are often combined to offer a joint course in cosmetology. Is that what you actually want or are you looking for a specialized course in hairdressing? Are you willing to sacrifice on the needs of your course to join a better known college or a school that is convenient for you in terms of location? There is a lot of thought to be spared. Course once decided cannot be undone. You'll have to live with it forever so make a careful choice. Choose what will really make you happy rather than what people believe is a better way to go about it. You do not have to take up cosmetology because others think of it as a better course. Do you really want to know about manicures and pedicures or are you all about hairstyling?
2)      Modules and Models
Make an informed choice. You do not want to land up in a course which you thought would be something but it turned out pretty disappointing in terms of what you thought it might be. Do not expect no studies from a hairdressing school. You will have your share of practical learning but you will still have to rote learn a lot of concepts  of chemical processes related to hair dressing skills. You should go through the modules the school has to offer in its course before finally choosing it as your perfect course. You should look for courses that give you an insight about cuts, textures, styling, colours and the science of hairdressing alongside various hair related problems. Also the school might have modules related to fine hair removal and electrolysis. Try to also communicate with people who have previously been to a hairdressing school. They'd help you out like no website ever will.
3.) Licensed or licentious?
You need to determine whether or not the school you are shortlisting is state licensed to offer a degree in hair dressing or cosmetology or any other degree as they might have named it. Your school would either be licensed to produce the degree to the students or licentious enough to carry the program without the license. But I am sure you know that a state recognized degree will not only broaden your horizons but also provide more acknowledgement for all the slogging you've done. Make sure you check if the number of hours you are required to devote to the course are enough by the state standards for eligibility to be a graduate in the concerned stream of study.
This said, choose your course, choose your school and step into the world of trends where human heads will be your canvas. That sounds interesting. Doesn't it?