A woman will always strive hard to look her best every single day. She makes sure she has the right makeup on when going to work or that she smells good whenever she has to meet friends outside. Also, she wants her hair to be frizz-free at least at some occasions. The good news is that women can always have fabulous, straight hair whenever they want. It is just a matter of knowing the different hair straightening methods available for them.
Basic straightening methods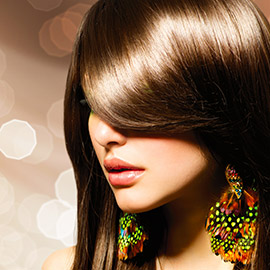 Basically, hair straightening has two types. One is called the temporary hair straightening method which generally lasts a day or two or up until the next hair wash. The other is the permanent straightening method which is an option if you want straight hair or at least a few months. These ones can even last for a year depending on several factors.
Temporary hair straightening methods
There are techniques under the temporary hair straightening method, which includes:
There is hot iron straightening which makes use of those hot irons that can be bought from local or online cosmetic stores. When using these hair straightening tools, you should choose one that has ceramic plates because these ones come with temperature control which will prevent hair damage.
Another temporary hair straightening method is blow drying. This may not give you the same straight hair you will have with a hot iron but it adds volume and bounce to your hair. The good thing about this technique is it does not heat your hair directly thus it will not be prone to dryness or breakage.
Then there is the straightening comb. This one is said to be the laziest amongst all hair straightening techniques. All you have to do is to use it like you would always do with your regular comb. You just have to pull the ends of your hair whilst combing to make your tresses look straighter.
Permanent hair straightening methods
For those with frizzy and curly hair, using permanent hair straightening methods is the answer. These ones require chemical treatment thus you have to take the necessary caution when choosing to use one.
The most popular type of method under this category is rebonding which is known to smooth out the tresses. This technique, however, changes the hair's natural form. As a result, the hair can become weak and lifeless.
Another popular permanent technique is called keratin straightening. This is favoured by many simply because it is a healthier and safer choice when compared to rebonding. Whilst it breaks the bond in natural hair, it fills the bonds with keratin, an essential protein that makes the hair look shiny and smooth. It also comes with a scented fragrance that makes hair smell sweet after the process.
Last but not the least – there is a method called hair smoothing. This treatment, as the name suggests, will keep the hair smooth after treatment. A good thing about this method is it does not change natural hair. It also deals with split ends thus giving you smooth and manageable tresses.
A word of advice
It is very important to make sure that you do not expose your hair too much to chemicals in permanent hair strengthening methods and to heat in the case of temporary options. You have to consult with experts to know which of these methods will benefit you the most. Be ready to spend money on treatments that will keep your hair looking good whilst doing away with the possible damage that may result from hair straightening. Want to have straight hair? Visit hairstyling schools in Toronto and entrust your crowning glory into the hands of experts, you will find that they charge cheaper even though they are well-trained in a wide range of hair straightening techniques.