PROGRAMS: Hairstyling
See Course Fees & Curriculum    See Photography (Hairstyling Students)
Course Overview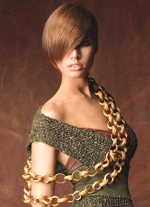 Our Hairstyling Diploma program consists of 1500 hours of in-school training using the most modern and advanced techniques available to the HAIR CARE INDUSTRY today. All theory and practical techniques of HAIR CARE are studied. You will be learning everything ranging from Hair Cutting (men & women) to Hilighting along with Blow Drying, Hair Extensions, Permanents, proper use of the Flat Iron and Curling Iron, Hair Relaxing and Salon Management and Ownership. All this and more can all be viewed simply by clicking on the button "See Course Fees & Curriculum".
Day students start at the beginning of each month. Day classes are held, Monday to Friday, 9:00am to 5:00pm (approximately 10 months).
Evening classes are held, Wednesday and Thursday, 5:00pm to 9:30pm and Saturday 8:30am to 3:00pm (approximately 23 months). Evening students begin the first Wednesday of each month.
Avola College understands that you may have other priorities such as work, family etc. That is why we can arrange a customized schedule to fit you and your needs. If you are interested in finding out more about this option, please call our office.
All equipment for the practice of Hairstyling is included in your kit, such as a blow dryer, curling iron, rods and rollers, combs, brushes, scissors, neck duster, textbooks, exam books etc. A School uniform is included and seeing that you will be performing salon services on Avola clients, we provide you with your own personal Schwarzkopf styling kit that contains all the styling aids required for you to complete any professional salon service on clients. Lockers are provided at no extra charge.
We are pleased to accept students from foreign countries wishing to study in Canada under the Student Visa Program.
Please call us for more information on Registration Requirements.
Avola College of Hairstyling and Esthetics is registered as a Private Career College under thePrivate Career Colleges Act, 2005.
We look forward to serving you!
Students enrolled in the Hairstyling, Esthetics and Electrolysis programs may be eligible, if qualified, for assistance under one or more of the following components of the Ontario Student Assistance Program (OSAP):
-   The Canada Student Loans Program (CSL)
-   The Ontario Student Loans Program (OSL)